Description
A Flower Coloring Book for Adults
This Anti-Stress Coloring Book: Floral Designs Vol 2 lures you in with charming, fanciful illustrations of beautiful flowers surrounded by delightful birds and butterflies.
It quickly delves into realistic drawings of flower bouquets and wreaths, illustrations of flowers in vases, abstract patterns inspired by flowers, and extremely complex floral designs. In addition, there are simple mandala patterns as well as incredibly complex mandala patterns.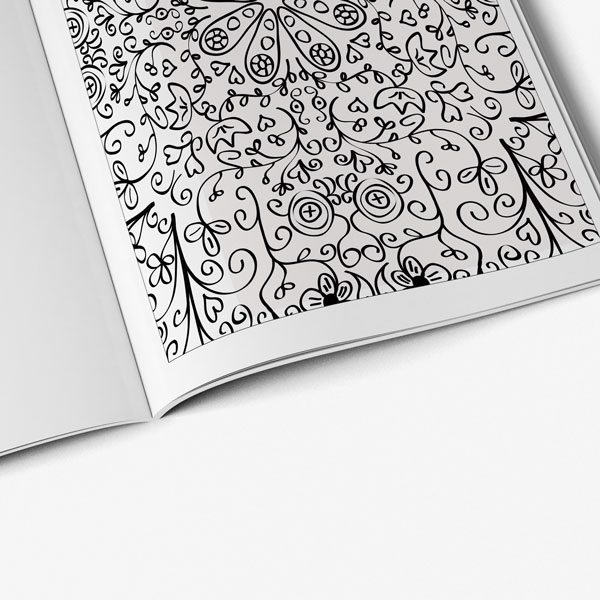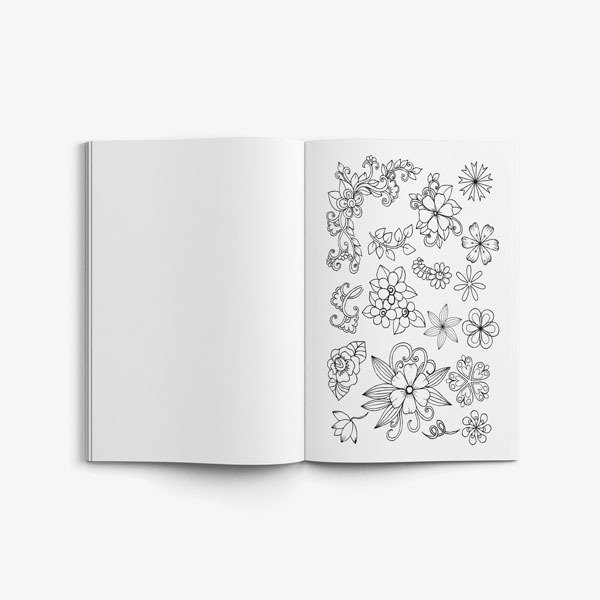 Coloring Designs for Everyone
Floral Designs Vol 2 has designs for every ability level. Even if you are an expert colorist, you will appreciate the lovely simplicity of the easier drawings as they give a nice break from the most complex drawings. If you are fairly new to the wonderful world of adult coloring books, you have ample opportunity to stretch your abilities and push the boundaries of your coloring experience with this book.
Coloring As Therapy
At Art Therapy Coloring, we approach coloring as a self-help therapy. It is healthy and fun to explore your creative side. Coloring itself is a very therapeutic activity because it helps relieve stress. Coloring also boosts confidence, especially confidence in your creative abilities.
Many adults in the modern world have forgotten how to be creative. Creativity is often repressed by working in a job that may not require creative thinking but provides enough money to be able to pay the bills. We do this day after day, year after year, and we forget that we have a creative side.
Children are creative. If you give a child a blank piece of paper, he or she will be able to come up with a great picture and an elaborate story to go with it. Adult coloring books are a great way to tap into that child-like creativity without the pressure of sitting in front of a blank piece of paper. Many adults find that they are able to engage their inner artist after spending some time with adult coloring books.
Coloring For Meditation And Health
Coloring is a great meditative practice. When you color, you are completely present in the moment without worrying about anything else. Your breathing slows when you are coloring, and your heart rate may slow down as well. Tests have shown that coloring may lower blood pressure, though coloring should never be used in lieu of medical treatment if you have blood pressure issues. Although there are definite health benefits to both meditation and coloring, medical problems should always be addressed by a professional.
The area where you may see results from coloring is in your feeling of well-being. People who start a regular coloring practice often find that they do not get as stressed out and they are happier than they were before. This is also a benefit that you can get from meditation. Where coloring is different than meditation, though, is in the fact that you do not have to sit still and try to quiet your mind. The act of coloring helps to quiet your mind and achieve the same meditative benefits without the frustration of not being able to stop the chatter in the brain.
Of course, the primary reason why we color is because we love creating beautiful pictures. Each piece of art in this book is gorgeous. When you combine your creativity with that of the artist's creativity, you create unique, one of a kind works of art that bring beauty into your life. Order your Anti-Stress Coloring Book: Floral Designs Vol 2 today and get started on your coloring journey right away!
Coloring Book Details
Series: Anti-Stress Coloring Book
8.5″ x 11″ (21.59 x 27.94 cm)
Paper: Black & White on White paper
Number of Pages: 82 pages
Number of Designs: 35
Publisher: Art Therapy Coloring
ISBN-13: 978-1944427061
ISBN-10: 1944427066