Description
Adult coloring book featuring bird designs
You will find gorgeous birds from all over the world, including hawks, falcons, owls, parakeets, parrots, puffins, chickens, ostriches, ducks, hummingbirds, pelicans, and much more.
These gorgeous birds are some of nature's most amazing creations, and many people spend hundreds upon hundreds of hours watching and waiting to catch a glimpse of them in the wild.
If you're looking for bird lovers paradise at your fingertips, you've found it here. If you're knowledgable about birds or you just want to widen your horizons, coloring these birds will inspire you to find a new hobby in the world of bird lovers. There are almost 10,000 species of birds in the world. Here you'll find a few to spark your interest in our magnificent feathered friends.
Not only are birds beautiful to watch and study, they also bring music to your ears. Songbirds can sweep your cares away and drown out the sound of a thunderstorm in the distance. Imagine this book as your own enormous aviary where you can watch and learn from this wide variety of birds.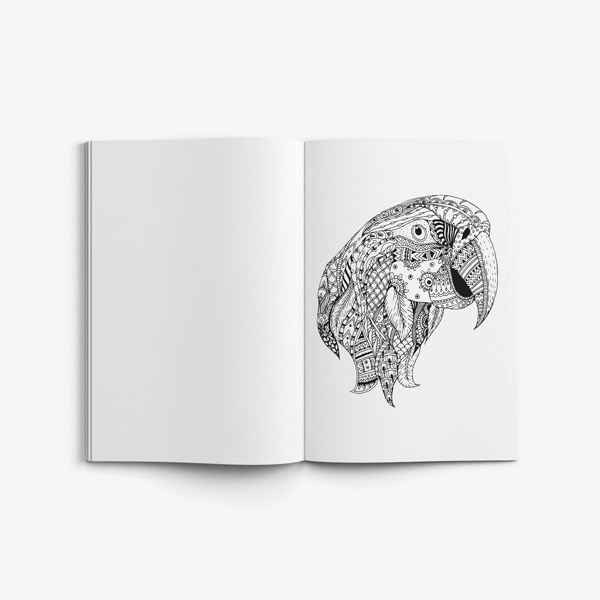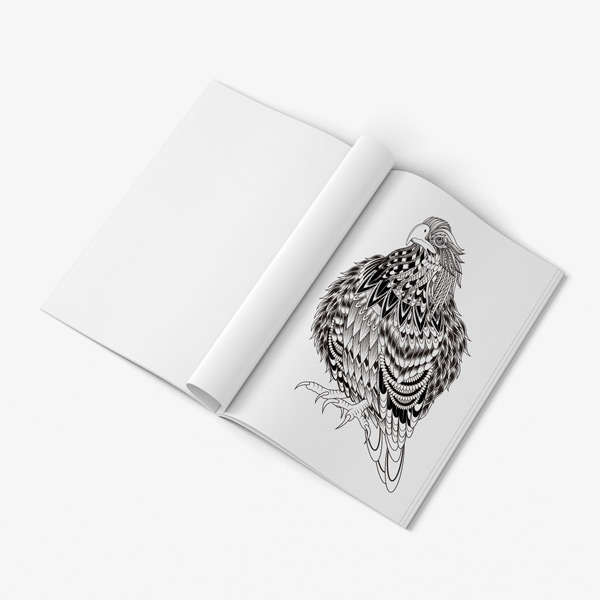 Incredible Bird Designs
Start out with the bald eagle, the emblem of the United States. Eagles are not only majestic but also known as powerful predators. Add a little flair to your picture by filling in colors around the eagle that match its habitat of coastlines, mountains or swamps.
The large African flightless ostrich is a distinct bird with decorative feathers, in contrast to the owl, whose insidious nocturnal nature doesn't lend easily to photographs. Owls are found all over the Earth, aside from Antarctica, and come in all shapes and sizes from only a handful to those who have 7 foot wingspans. Spark your creativity with colors to match your worldwide vision of these arcane creatures.
Color Birds From Around The World
Considering the birds around the world, this collection will take you on a journey of the Earth with birds like the puffin, a short winged pelagic seabird or the tropical and brightly colored Toucan.
Fall in love with the wood duck who inhabits swamps and marshes, or explore your flighty side when you transform the sweet hummingbird or docile dove into a colorful beauty. Beauty abounds with color options when using your creative genius on the Asiatic peacock.
Who can resist the back to basics nature of the yard bird or hen as we know it. This is just the beginning of your new world of bird loving. If you like this book, you'll love Birds Volume II which includes more habitat and borders.
However you plan to spend your day, you can include an easy escape by adding this book to your day and enjoying the world of birds right at your fingertips.
Now you can enjoy them in the comfort of your own home with Bird Coloring Book for Adults Vol. 1.
The high-quality pictures in our Bird Coloring Book have the same level of quality and attention to detail as any birding book you might read. So you can enjoy exploring all the details of these wonderful birds and learning more about them while simultaneously delving into a hobby that will calm you and help you live with less stress.
Bird Coloring Book for Adults Vol. 1 is the perfect gift for your favorite bird-lover, or an ideal indulgence for yourself. Give it a try and see how fun it is to steep yourself in the world of birds while watching your troubles and stresses melt away.
The Health Benefits Of Coloring Bird Pictures
Coloring has gotten a lot of attention from healthcare professionals and mental health professionals in recent years. It is an old but new discovery that this beloved childhood activity also has huge benefits for adults as well. Coloring has a lot of the same health benefits as meditation, and for a lot of the same reasons. It teaches you to focus and it helps you tune out all the thoughts and stresses of the rest of your life. You end up calmer and healthier just because you spent some time focusing on nothing but putting the colors inside the lines and thinking about what color to use next.
There have been many studies showing that focused activities with repetitive motions, like coloring and knitting, are therapeutic and help to reduce stress. Both of these activities require you to stay alert and pay attention to what you are doing. Otherwise you will mess up. With knitting you drop stitches or miss things if you aren't paying attention. With coloring, if you don't pay attention, you end up going outside the lines and messing up your picture. Therefore it requires you to focus on what you are doing, and doesn't leave mental room to really spend a lot of energy worrying about anything else. You end up with lower cortisol levels, slower respiration, and even a slower heartbeat because you are just focusing on doing something beautiful instead of on worrying about anything else.
When you color pictures of birds or other things in nature, the benefits are even increased more. Nature itself is incredibly beneficial, and there have been a lot of studies done on the stress-relieving benefits of "earthing" (walking barefoot on the ground) or breathing fresh air under some trees. While coloring these pictures is not actually the same thing as taking a walk in the forest, it puts your brain into the same place. You may not be breathing the fresh forest air, but you benefit from the relaxation that comes from contemplating and marveling at nature.
Coloring Book Details
Series: Animal Coloring Book For Adults
Size: 8.5″ x 11″ (21.59 x 27.94 cm)
Paper: Black & White on White paper
Number of Pages: 86 pages
Number of Designs: 35
Publisher: Art Therapy Coloring
ISBN-13: 978-1944427498
ISBN-10: 194442749X