The Ultimate Guide to Adult Coloring
If you want to get started with adult coloring, this is the guide for you. Many of us remember coloring as a child and how much fun it was! We are drawn to coloring as adults for the nostalgia of being a kid. Others want to enjoy a new stress relieving hobby – so they pick up coloring for stress relief.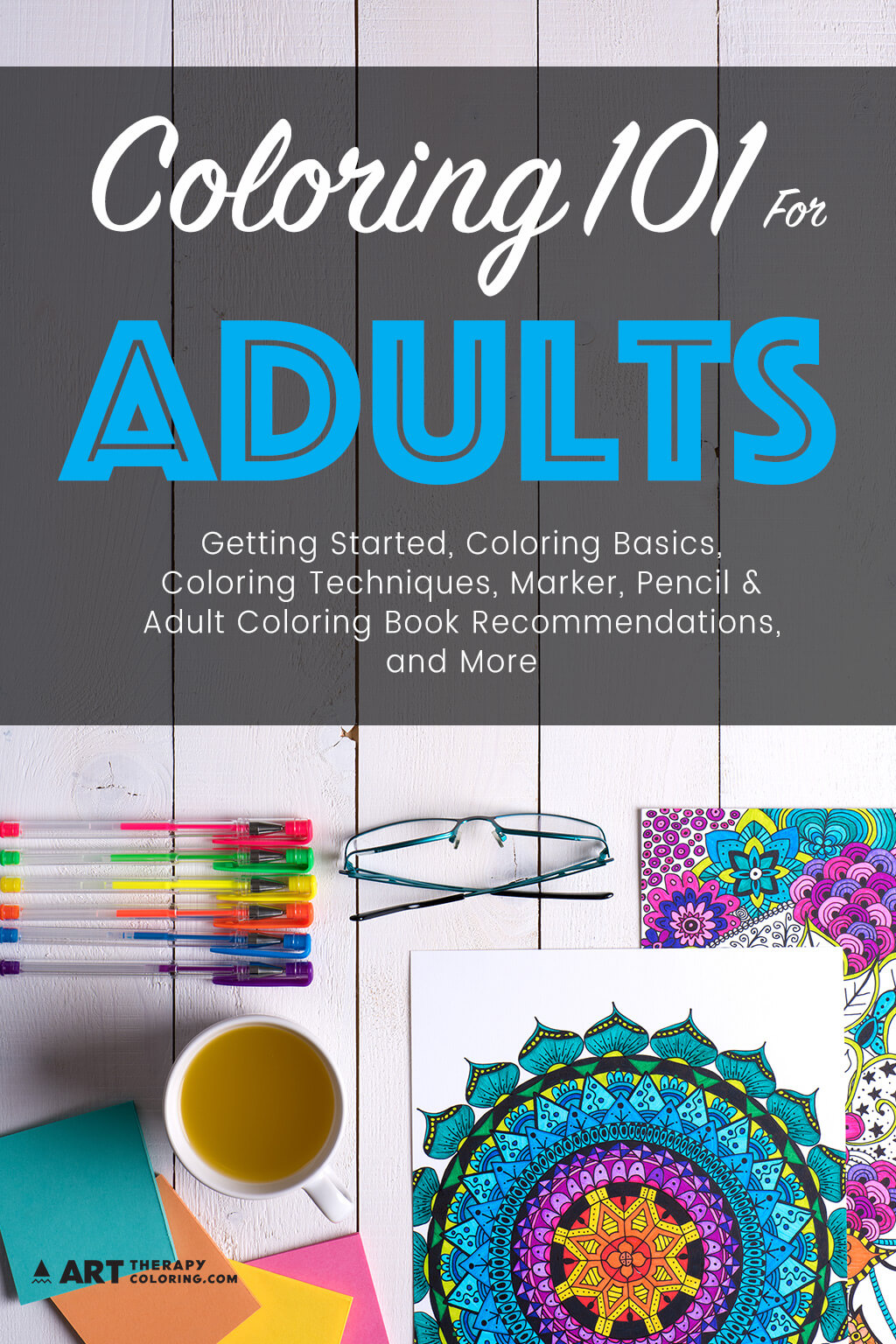 Whatever your reason for coloring as an adult, read on to learn everything you need to know about adult coloring!
This complete adult coloring guide covers everything you need to know about coloring for adults. I will go over the basics such as what supplies to get, best art supplies, how to color, adult coloring techniques, recommendations of adult coloring books, and more.
Coloring 101: Beginning the Adult Coloring Journey
Before getting started with adult coloring, you'll need a couple of things:
Supplies you will need for adult coloring
Adult Coloring books (or printable coloring pages)
Coloring supplies (colored pencils, markers, etc.)
Where to get coloring supplies
Adult Coloring Books: Obviously, you will need an Adult coloring book. That's not a problem since there are many places you can purchase adult coloring books. Here at Art Therapy Coloring, we also sell a wide variety of fantastic adult coloring books, seniors coloring books, teenager coloring books, men's coloring books, and more:
Downloadable Coloring Pages: Some adults are so excited to try coloring, they don't want to wait to get a coloring book in the mail. The thing is, many online stores offer fast (and free) shipping so you can get your adult coloring book ASAP.
For example, all of our adult coloring books are available on Amazon. All of our coloring books are eligible for Amazon's famous free shipping over $25, or 2-day free shipping to Prime members. However, if you didn't want to wait, we also offer a free printable adult coloring ebook for those who want to get started right away.
If you want to color on the cheap, downloadable coloring pages are an excellent option. You can find free (or premium) coloring pages online that you can download and print at home. The benefit of printable coloring pages is, if you mess up, you can print another copy!
Despite this benefit, most adults prefer physical adult coloring books over digital ones. It's nice to have a physical bound book which keeps your finished artwork pristine and organized. Also, the adult coloring books usually have better quality paper than office depot printer paper.
Art Supplies: You'll need some coloring supplies to color in your adult coloring books. Many people choose to use colored pencils or markers since they are readily available. They are perfect for adult coloring books since you can color in tiny spaces with ease.
Amazon (Best balance of quality & price)
Michaels (Good selection, more pricey)
Aaron Brothers (Good selection of quality art supplies, more pricey)
Grocery Store (Lower quality)
Dollar store (Best price, lower quality)
Etc
Adult coloring books
Even if you start out using printable coloring pages, that's fine. Most adults, however, will transition to physical adult coloring books after playing around with the printable pages.
When you get into coloring, it's natural to want the best of the best. Whether that means getting better quality colored pencils or a beautiful physical bound coloring book like this one: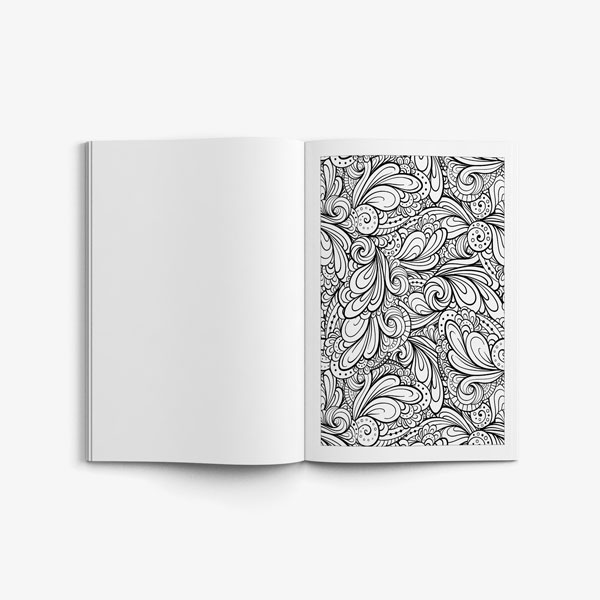 The published adult coloring books usually have better designs, better paper (vs. printer paper), and they keep your artwork better organized.
A physical coloring book will give you a more pleasant experience while coloring. You don't have a stack of papers the can get lost or ruined easily; Your artwork is bound in a single volume. Many adult coloristsa long timeenjoys this since they can go back and look at what they have created later on.
Coloring supplies for adult coloring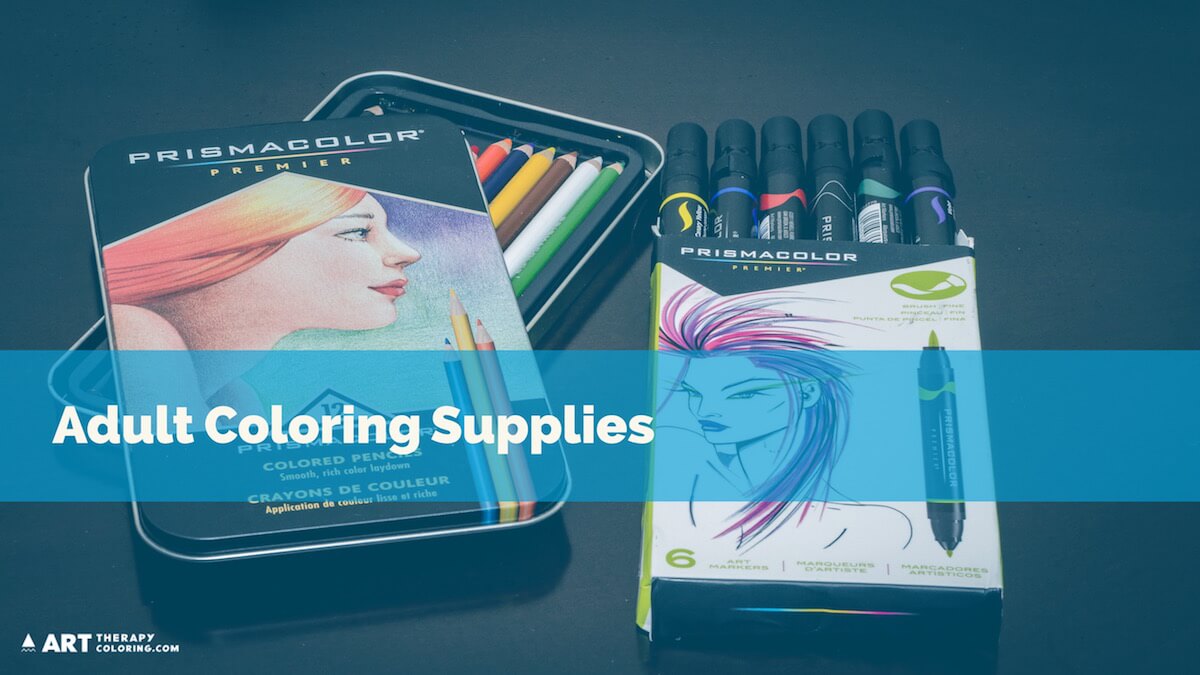 After you have your adult coloring book, the next step is to decide which art supplies you want to use. This is where most people get hung up with adult coloring. Some common questions we hear are:
What should you use?
What's the ideal art medium to use with adult coloring books?
Should you use colored pencils? Crayons? Markers?
What brands are best for adult coloring books?
Coloring with colored pencils
Colored pencils are probably the most common art medium for adult coloring books.
There's a reason for this.
Colored pencils are great for
Beginner Adult Colorists: If you are a beginner, or just starting out, we recommend colored pencils. They are the easiest to start with, and they're also widely available.
Advanced Adult Colorists: Colored pencils are also fantastic for advanced adult colorists. Even though colored pencils are simple to use, you can also learn some advanced techniques. Techniques such as shading, layering, etc. are all possible with colored pencils. You can also get some other cool effects that other mediums cannot achieve. With advanced techniques, your finished coloring pages will really stand out.
The best colored pencils
There are different types of colored pencils and different brands.
You can purchase everything from the Dollar store to professional grade colored pencils. Higher-end colored pencils will offer a much better experience and result with your adult coloring. These types of colored pencils are made for artists and are therefore a little more expensive.
The professional artists grade colored pencils are not incredibly expensive, though. You can get a pack of 12 starting at around $11, so it's not too bad.
The premium colored pencils are built with higher quality pigment and materials, which creates a better, finished piece of artwork. They also allow you to use more advanced coloring techniques like shading and layering different colors together.
What makes a good quality colored pencil?
Great color: You want to use a colored pencil that has great color production. I like the vibrant colors, and that's why Prismacolor is one of my favorite colored pencil brands. However, there are also other premium brands that aren't necessarily vibrant (for example pastel colors).
A variety of Colors: You want to be able to have the option to buy a large range of colors. Your creativity is hindered if you only have a handful of colors to choose from.
Steadfast color: You don't want your beautiful work of art to fade away prematurely. You want the color to stay on the coloring page for long time. You also want it to be as vibrant as the first day you first colored it.
Shading & Blending: Good colored pencils allow you to shade and blend colors together.
Strong: You don't want your colored pencil lead to constantly break, which may happen on cheaper colored pencils. However, there are also good quality colored pencils that naturally have a softer lead/ pigment. These types of colored pencils are usually perfect for blending colors because the lead is much softer and malleable (like prismacolor). Even though there are softer premium colored pencils, they still won't break on you with moderate pressure, so don't worry about that. What you don't want are cheap colored pencils that regularly break.
"Artist" Colored pencils – The top professional colored pencils

Prismacolor: (Wax based) Prismacolor colored pencils have amazing color. They are so rich and vibrant. These coloring pencils are ideal for when you want your coloring page to pop and really stand out. Prismacolor pencils are a softer colored pencil, so they are great for blending colors too. They are also good for layering, creating texture effects, and for other advanced colored pencil techniques. These are a great all around colored pencil.
Coloursoft: (Clay based) Coloursoft colored pencils give more of a pastel (or soft) look. These are good for when you want that pastel look, such as when coloring in a flower coloring book for instance.
Derwent: The Derwent drawing pencils are even softer than the coloursoft brand. The colors in this pack are also more earthy colors, so they are ideal for nature and animal coloring books.
There are many other professional coloring pencil brands out there, but these three listed are some of the most well known. There are many other great contenders also Caron D'Ache, Faber Castell, Lyra, Bruynzeel, etc.
My Favorite: For adult coloring, I really enjoy using the Prismacolor colored pencils. They are my favorite colored pencils because they are super vibrant. I love vibrant colors in my artwork. Also, the lead is soft, so I can blend colors together and do just about every other advanced coloring technique there is with these guys. All around, I'd say they are a great colored pencil and you can't go wrong.
"Budget" Colored pencils – The top colored pencils on the cheap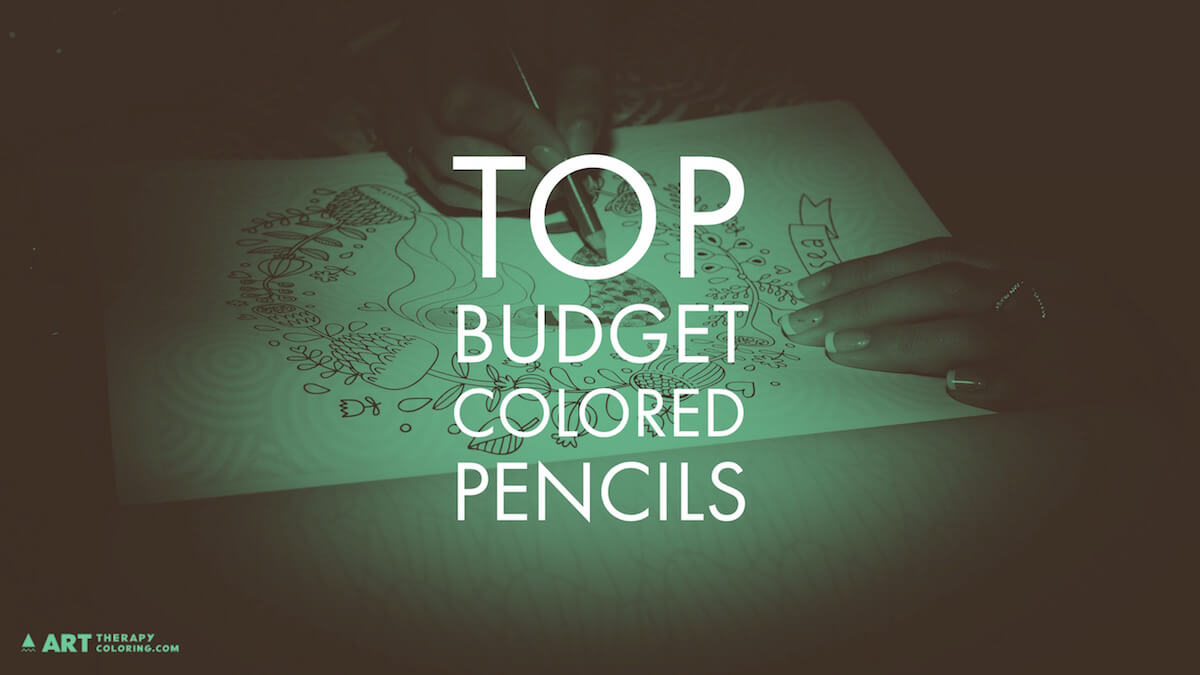 There are some cheaper colored pencils that you can buy. However, they do not work nearly as good as the "professional grade" colored pencils.
In reality the professional colored pencils aren't that much. You can get started with 12 pack of the Prismacolor is about $11. So I would recommend just getting the better colored pencils. TRUST ME. You will see and feel the difference.
However, if you wanted to get some colored pencils on the cheap here are some that you can get:
Best Budget colored pencils:
Prismacolor Scholar Colored Pencils: These are targeted for beginner artists. They are less expensive than regular Prismacolor pencils and are pretty decent. These guys are much better than some of the competing colored pencils in the same price class. So for the price, these are well worth it.
Sargent: This is another good brand for beginner artists. These are a decent quality colored pencil for a good price.
Crayola: Crayola is a household name, and these are just standard quality Office supply store colored pencils. They're not meant for the artist, but you can use them in coloring books.
Dollar Store: These are the lowest quality colored pencils. They are good enough to get started. However, there are better options out there.
My Favorite: Just like the above, the Prismacolor Scholar colored pencils are a great option when you are on a budget.
Coloring with markers
Markers are perfect for adult coloring. There are some pros and cons to using markers versus something like colored pencils. I like to use both, and just switch it up depending on the mood I am in.
Blending (only professional markers): You cannot blend most markers as easily as colored pencils. However, some markers (like Prismacolor & Copic markers) allow you to blend. The higher end markers usually have a colorless blending marker. These are specialty markers without any pigment that allow you to use advanced marker techniques.
Vibrant & Rich Colors: Pens tend to be more vibrant than most colored pencils due to the ink.
Bleed-through: You have to be careful of bleed through, and each marker has different levels of bleed through. It is a very easy fix though. You just place a piece of paper between the coloring pages.
Easy on the hands: With markers, you don't have to press down very hard, like with some colored pencils. Adult coloring with markers tends to be easier on your hands and joints. Since many adults have arthritis or carpal tunnel, pens and markers may be the best bet for them.
The best markers for adult coloring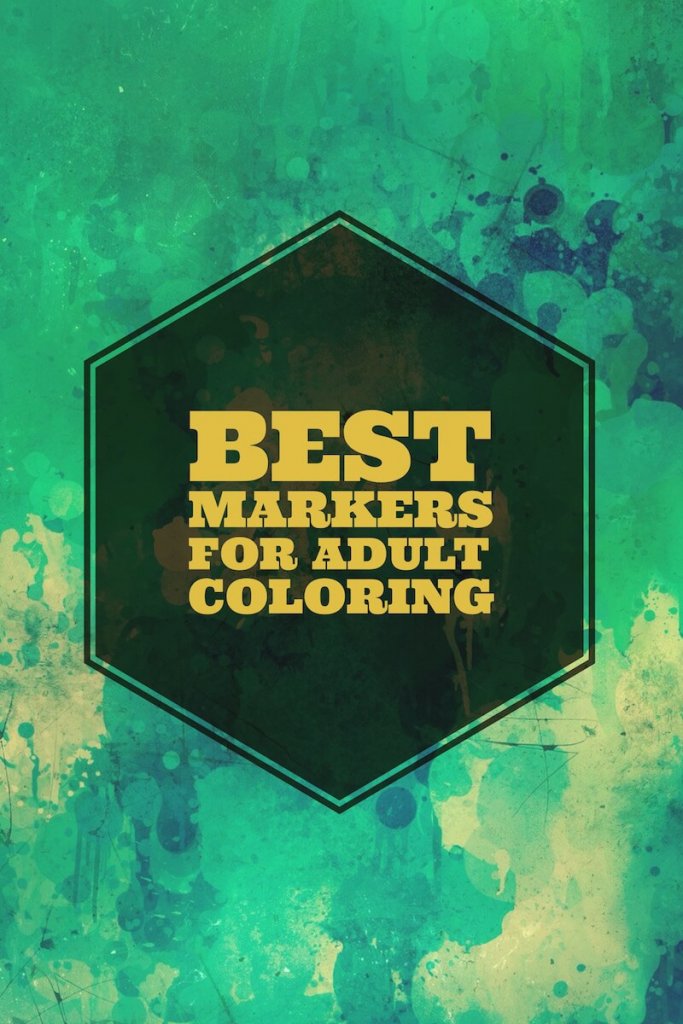 Just like colored pencils, there are different grades of markers that you can use for your adult coloring books. You can get cheap dollar store pens, or you can get more pricey professional "artist" markers.
The professional grade markers are much higher quality, but you will have to pay $20+ to get that quality. I think it's worth it because your coloring pages end up looking much better with professional markers.
What makes a good quality marker?
Vibrance: The vibrance or brightness of the markers makes a huge difference when coloring great looking coloring pages. When the colors "pop" it makes the design stand out, resulting in a much better finished coloring page.
Dries fast: Preferably, you will want your markers to dry quickly. If the marker ink does not dry quickly, you run the risk of smearing the ink with your hand.
Large color selection: Quite frankly, it can get kind of boring when you only have 6 colors to choose from. Its best to have a wide variety of colors to maximize your creativity!
Quality Tips: You want to have a good quality tip when you are coloring with markers. Some cheaper marker's have tips that will start to fray and deteriorate very quickly. When you have higher-end professional markers, the tips are much better quality and won't deteriorate quickly like cheap ones.
Double ended markers: It is good to have markers that have wide and skinny tips. Since most adult coloring books have very fine lines and larger areas to color, its nice to have the flexibility in different size tips. The higher end markers typically are double ended, with 1 fine tip and 1 thicker tip. You won't see this on cheaper markers.
"Artist" Markers – The top professional Markers: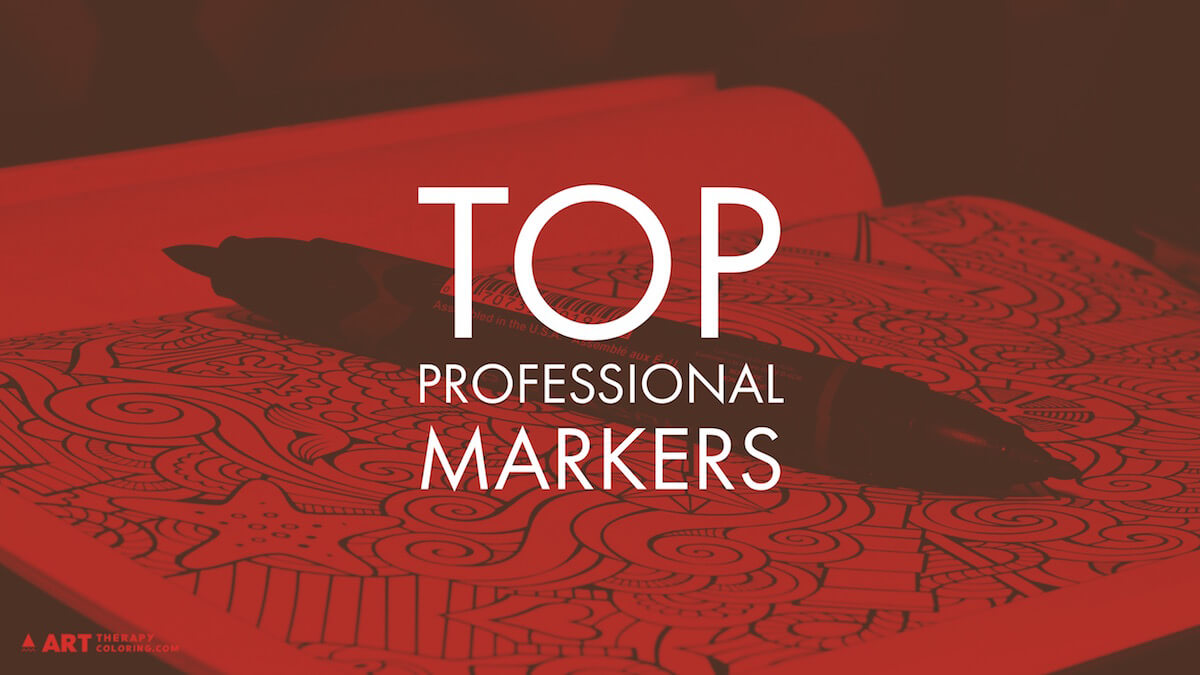 Prismacolor: Prismacolor markers are fantastic professional markers. They have a fine and broad tip, so they are ideal for a variety of coloring books. They also have beautiful, vibrant rich color. They also dry quickly so you don't have to worry about smearing. However, they are not refillable, so you have to replace the pens when they run out.
Copic: Copic markers, like prismacolor are a very popular marker option for adult coloring. This is another double ended marker with wide and fine tips. However, these are much more expensive than prismacolor ($70 for a 12 pack, vs $21 for a 12 pack of prismacolor set). However, copic, unlike prismacolor are refillable.
Charpak: These markers are not double sided like the previous two, but they are a chisel-shaped tip. Even though I prefer double ended markers, this tip does allow you to get a variety of thicknesses of lines.
Tria: Tria markers are another option for adult coloring that offers a unique design over the others. This marker has 3 tips! It has a fine tip, a brush tip, and a chisel wide tip. The biggest benefit is the flexibility of this marker, since you have three sizes of nibs.
My Favorite: Though there are many great options for coloring, prismacolor markers are probably my favorite. They have fantastic vibrant color production, and they seem to last a while. Although they aren't refillable like copic, they are much less expensive. They also appear to last a good amount of time, assuming you don't forget to put the caps back on.
"Budget" Markers – The top markers on the cheap: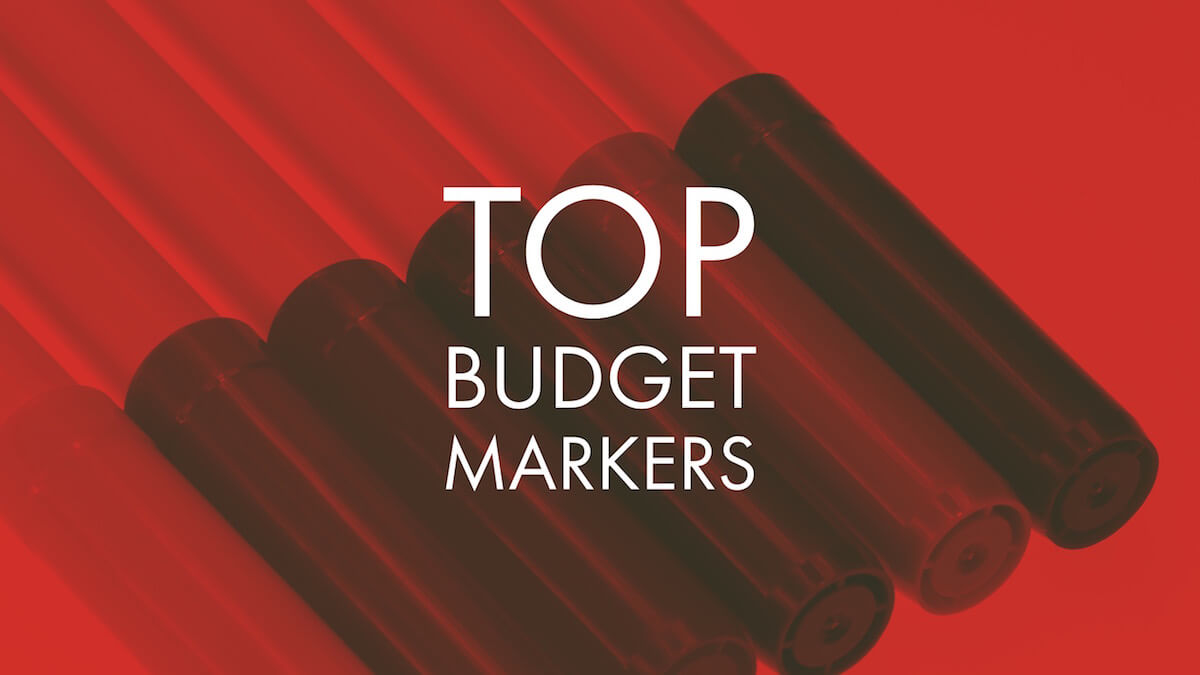 Sharpie: Sharpies are great because they are cheap, you probably have some lying around the house, and they produce a rich color. They also come in a variety of sizes (regular or ultra fine tip), and have a decent selection of colors. I would recommend getting a pack of both the regular sharpies and ultra fine tips, since you will want both tips for coloring your coloring books. Since getting two packs will add up, it might be better to get a higher quality double ended marker.
Stabilo: These markers have a variety of colors to choose from and are a good price. The only drawback to these is the tip. The tip seems more stiff and almost scratch the paper. These are also better for coloring in small areas than larger areas.
Triplus Fineliner: These markers may have one of the smoothest coloring experiences out of the budget markers. It has a little bit of bleed, but not way too much. I would recommend these, as they are great for the price.
Pentel: These are the cheapest pens out of the bunch. They are decent for the price and they have a  good color selection. The biggest drawback are the the tips. The tips aren't the best quality and they start to degrade shortly after using them. In the end, you get what you pay for.
Manama: These are inexpensive, and they work pretty good. They are better for coloring in small areas. They are decent for the price.
My Favorite Budget Markers: The Triplus Fineliners or sharpies are probably my favorite budget adult coloring markers. If I had to choose one, I would probably want the Triplus Fineliners.
Crayons for adult coloring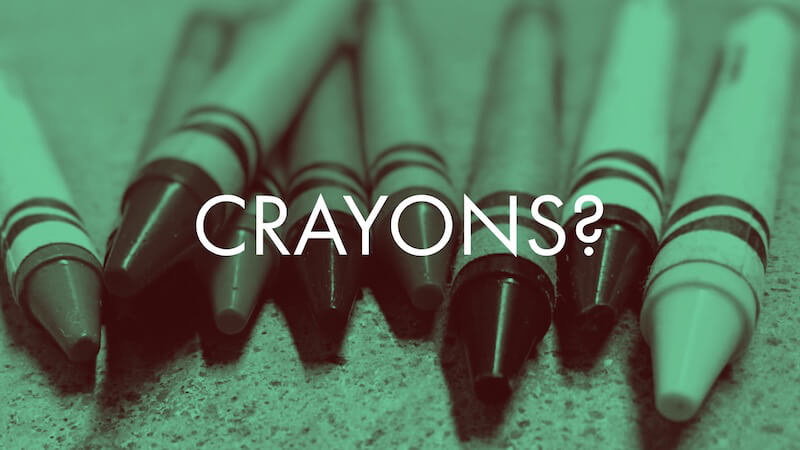 There is no right or wrong to color, nor is there a wrong art medium to use for adult coloring. There are pros and cons to each medium, but at the end of the day, it's your choice what you want to use. The biggest drawbacks to using Crayons for adult coloring are:
Cons to using Crayons
Blunt tip
They are difficult to sharpen
They break easily
They have a bad grip
The color is not as vibrant
You can't easily blend colors
Personally, I don't like using crayons. I would much rather use colored pencils, markers or gel pens.
With that said, crayons offer a very nostalgic feeling when coloring. Even though crayons are not the best for intricate coloring pages and small detailed spaces, they are suitable for bigger areas. They are also readily available, cheap and have a wide variety of colors.
The best crayons
Despite their drawbacks, some people enjoy using crayons for adult coloring. That's totally fine! If you want to use crayons, I would recommend the following:
Crayola Mini Twistables
Crayola Classic Packs 
How to color adult coloring books – Coloring tips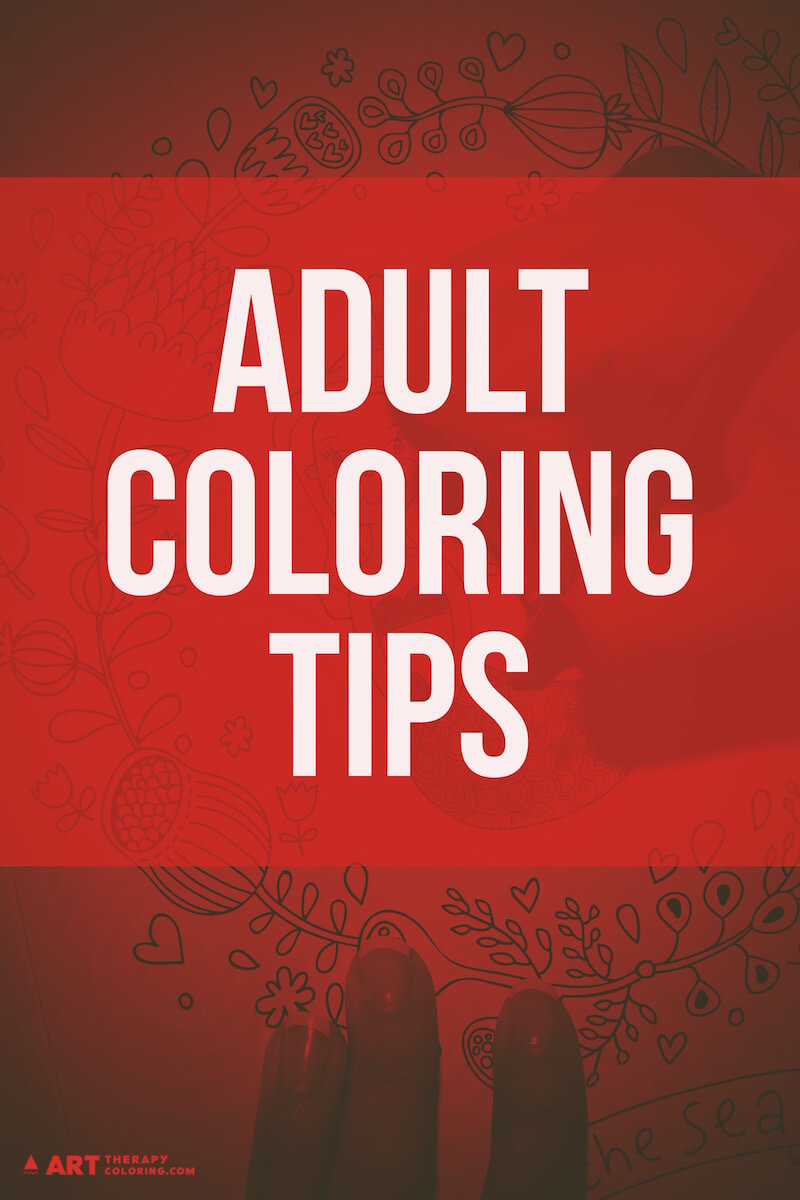 There are some more advanced blending and shading techniques, however this is only if you've had plenty of practice. When first starting out, I recommend that you just color in between the lines. Thats all there really is to adult coloring!
This may seem very easy, but if you are out of practice, it may take some time to regain that dexterity. It may be somewhat difficult, especially when coloring incredibly intricate coloring books. However, after you begin, it will become much easier as you practice.
General Tips with Coloring
Practice makes perfect: If you find it difficult to color in-between the lines on complex coloring pages, just keep at it! Remember that practice makes perfect. Some adult coloring books have very small and intricate spaces, so just bear in mind that it takes some practice to build up or regain your dexterity. Oftentimes, adults haven't colored for over 20 to 30 years, so it takes some time to get used to coloring again. After you finish your first coloring page, you should feel right back at home like you were a kid again.
Relax: Remember that coloring is all about relaxing and living in the moment. Some adults do not like the incredibly intricate coloring pages that are common to many adult coloring books. This is normal for some people to have that reaction, but you just need to realize it's all about the journey rather than the destination. Learn to enjoy the process of coloring rather than getting overwhelmed with all the intricate details of the coloring page.
Color from the corner: It may help to start coloring at the top left or right corner of the coloring page. It seems easier to stay in-between the lines when starting at a corner rather than the middle. Also it helps minimize any smearing with your hand as you move from the top to the bottom of the page. Obviously you can choose where you want to color. It is entirely a personal preference, but we found this the best way to color.
How to color with markers
Don't worry about blending or layering until you've got some practice under your belt. With markers, you can only just color in-between the lines.
Marker tips
Keep them capped: If you forget to put the cap back on, the ink can dry out.
Test your marker: I like to test the markers on a blank piece of paper before coloring on my coloring page. The thing with markers is sometimes the color will be a little bit different than expected.
Put a sheet of paper behind the coloring page. When coloring with some brands of markers, they may bleed onto the second page of your coloring book. When you place a blank piece of paper between the coloring book pages, it will prevent bleed-through to the next coloring page.
There are no rules: There are no rules to adult coloring. Don't be afraid to mess up; You can always color a new coloring page!
How to color with colored pencils
There are several advanced colored pencil techniques you can implement. However, for basic coloring, there are a few ways you can go about it:
One layer: You can coloring in-between the lines, but with only one layer of lightly applied colored pencil. This method is fine, but the coloring page ends up looking less vibrant than other methods. I like my coloring pages to be pretty vibrant when I am finished, so I hardly ever use this method.
One layer (pushing down harder): Another way to color, is to lay down one dark layer of color. This method of coloring works much better when you have a softer pigment colored pencil. I personally like to do this when coloring with Prismacolor because the coloring page ends up being very vibrant, and almost looks like it was colored with a marker. I tend to like that look.
Multiple Layers: This will be easier on your hand and joints. It consists of laying 1 layer down, then coloring on top of that layer with the same color. You can do it 1,2,3,4, etc. Its up to you on how you many layers you use, and how you want it to look. This method is ideal for budget colored pencils, or colored pencils with a denser lead pigment. It can also be done with softer leads as well.
Colored pencils tips
Keep them sharpened: Your colored pencils should be sharpened, so you have the precision to color in between the lines. This is particularly the case for more detailed coloring pages.
Find the best pressure: Depending on the brand and type of colored pencils, some tips may break more easily than others. With some colored pencils, the lead pigment is much more soft. With these colored pencils you can press hard and the color application will be very rich on the page. Some colored pencil's tips will break when you push that hard, so you need to find that happy medium of pressure.
Choose a color scheme (color palette)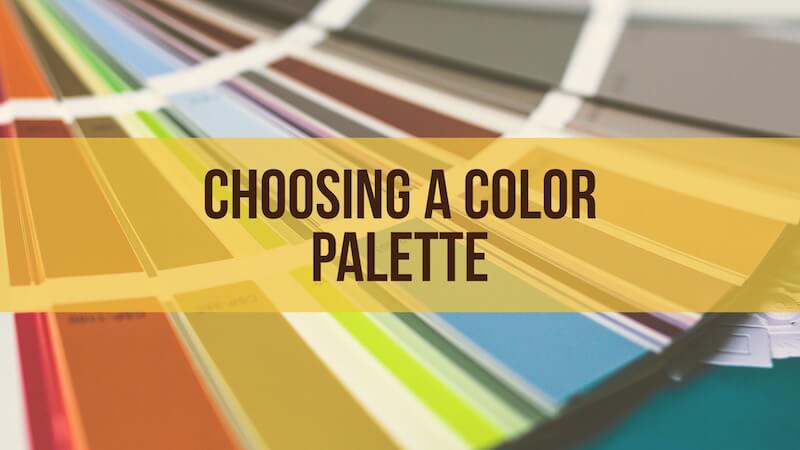 There are a couple of ways you can go about your adult coloring. You can strategize and pick out a particular color pallet before you begin, or you can just grab a color that intrigues you and start coloring. When selecting a color scheme, it helps to learn a little bit about adult coloring color theory.
Select a color scheme beforehand: You don't have to know any fancy art techniques to create a fantastic looking coloring page. Honestly, a large part of a great looking colored coloring page is due to the color scheme. Choosing a color scheme can do wonders for your finished artwork!
Wing it: Adult Coloring is all about the process right? Well, in this case, the end product (your finished coloring page) may not matter as much as living in the moment. You can choose specific colors as you go. This is totally fine if you decide to color that way! In fact, you may be pleasantly surprised at your result.
Tools to help you pick a great color scheme
Coolors: The Coolors web app is really cool. It's great because it cycles through color schemes until you have one you like. All you do is hit your spacebar until you find a color scheme!
Color.adobe.com (Kuler): This used to be called Kuler, and it's an excellent color palette tool. It's especially useful for picking colors based on a color theory concepts.
Paletton: This is similar to adobe's color app.
Tip: Use prismacolors color tool to match colors to your new color scheme. You can then find matching Prismacolor colored pencils or markers!
Coloring techniques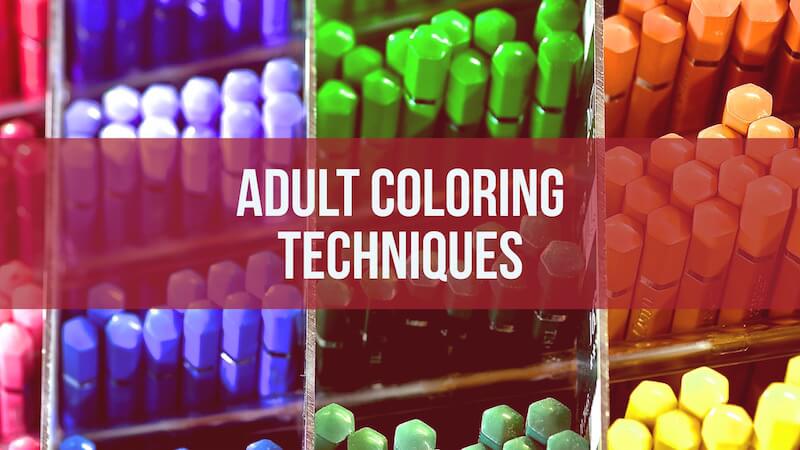 There's no need to get all crazy with fancy coloring techniques with your adult coloring. However, if you want to make your finished coloring pages shine, you can implement some classic art techniques.
Many people start coloring, and after a while, they want to take that extra step to make their artwork pop even more. After you've been coloring for some time, you may feel like you want to move beyond the basics and learn the more advanced adult coloring techniques.
We will have more detailed guides coming soon, but for now, here are the typical artist techniques used for advanced adult coloring:
Colored pencil techniques
Hatching
Cross-Hatching
Stippling
Back & forth stroke
Stumbling
Blending with colors
Blending without colors
Pressure shading
Marker techniques
Layering
Blending
Shading
Combining different media