Coloring Books for Men: Coloring books guys actually want to color!
It's time for Men to have their own coloring book too!
The use of Coloring books for men has grown in numbers over the last couple years. However, even though many men have joined the adult coloring craze and enjoy coloring, some men don't like the idea of coloring. Coloring, like yoga, is often seen as an activity for women. In our modern culture, there is an expectation that men shouldn't care about creative things. Creative arts like knitting and embroidery are frequently considered to be women's activities, while men are expected to do "manly" things like fishing, hunting, and fixing up cars.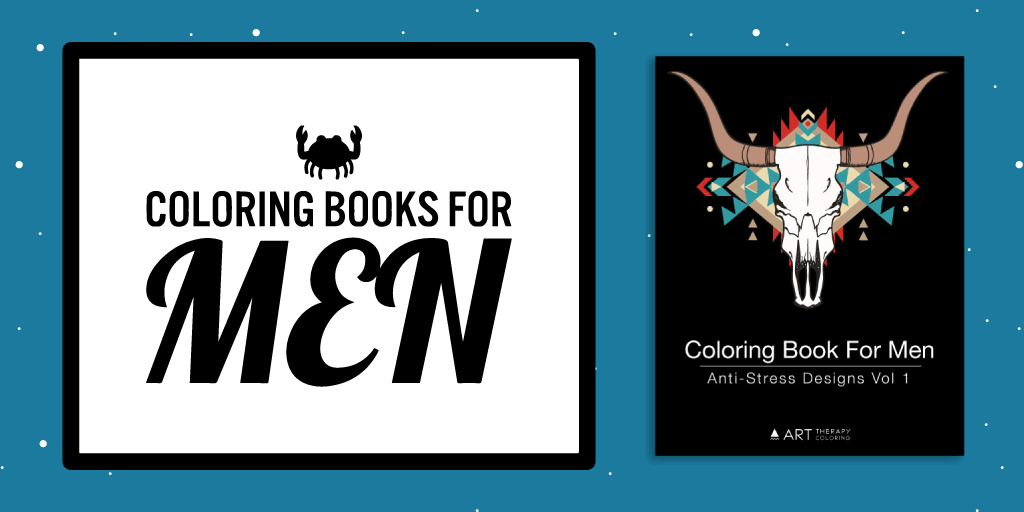 Adult coloring books are more tailored to a woman's taste than to a man's. Here at Art Therapy Coloring, we believe there shouldn't be any stigmatization against a man enjoying a coloring book.
Recently, coloring books for men have actually gotten more popular, at least much more popular than they used to be. It probably has a lot to do with the explosion of the adult coloring trend for stress relief. With the popularization of coloring books for adults, the stigmatization of adults who like to color is lessening. Because of the widespread acceptance of coloring books for adults as a stress relief tool, the stigma against men who color is lessening too. Now guys from all over the world are giving coloring a shot, and many find that they actually enjoy coloring.
Masculine Adult Coloring Pages vs Typical feminine adult coloring pages
One of the things that often turn men off to coloring books is the large number of feminine designs in most of the adult coloring books. Your typical adult coloring book is not very masculine because most of the adult coloring books on the market are geared towards women.
In fact, it is very difficult to go out and buy an adult coloring book that is made specifically for men. If a man does decide to go ahead and give coloring a shot, he may get tired of all the flowery and feminine patterns found in many adult coloring books on the market. He would likely get frustrated at the process of hunting one down that isn't filled with feminine designs. Most guys just don't like floral, doily, and other types of feminine designs.
Typical (girly) Adult Coloring Book Page: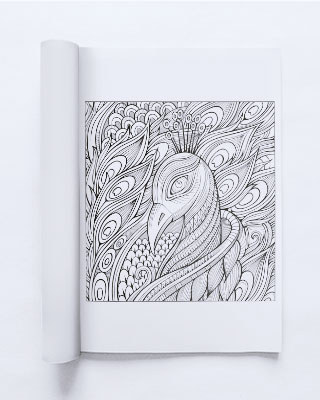 This looks like a fun page to color, but there are a lot of guys that may not like this particular design. It is a very intricate coloring page, but the design may seem to be a little on the feminine side. It feels feminine because of the style of the artwork and the subject matter of a peacock. A man may prefer a picture of a lion roaring or a tiger growling, which feels more masculine.
Coloring Pages made for Men: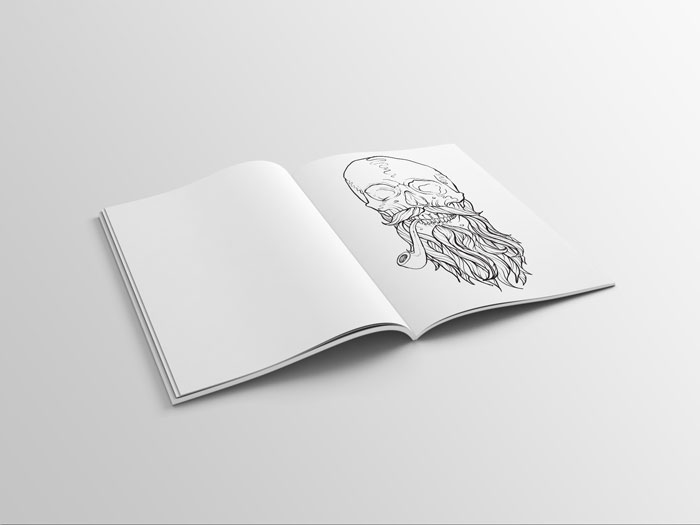 The coloring page above is of a skull, with a long intricate beard, smoking a pipe. A skull is probably more appealing to most men, than say, a flower or doily pattern is. This is just one example. Coloring books geared towards men have a variety of different designs, such as geometric patterns, designs with strong, bold lines, and other types of coloring pages with subject matter that most men would find appealing.
Geometric Coloring Page: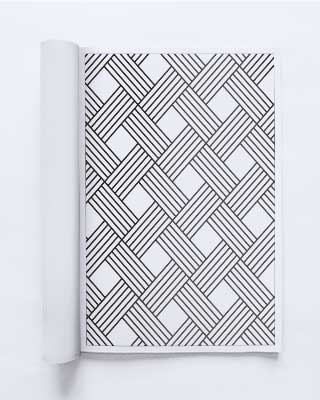 Many men would rather color cool geometric coloring book pages than flower and butterfly patterns. This is another example of an adult coloring page that is made for men.
Finally, adult coloring books Men can be proud of
Here at Art Therapy Coloring, we create some of the best coloring books for men because they are full of designs that men love. We have a great selection of coloring books that are designed just for men, without all the feminine designs.
Our coloring books for men have geometric coloring patterns, bold lines, and designs that are created especially for men. Of course, there's no reason why women can't color them too, and there's no reason why men can't color the more flowery coloring books either. After all, the connection that women have with pink and flowers is a societal construct. A century ago, pink was considered to be a masculine color.
Nevertheless, many people find it easier to abide by this societal construct rather than trying to take it on singlehandedly, and there's absolutely no reason to postpone coloring until the world accepts that men can like flowers too. Everyone should be able to color the coloring books they authentically fall in love with, without worrying what anyone else will think of them. Choose the coloring book that appeals to you!

Why is adult coloring therapeutic?
Ask anyone who has purchased an adult coloring book, and you'll likely hear that it is not only fun to color, it is also relaxing. Studies that have been done on the effectiveness of coloring for stress relief support the fact that Adult Coloring is therapeutic. Adult coloring has many health benefits because of its effect on stress levels. Many people report that when they color, their stress melts away. It is believed that coloring lowers stress by calming the amygdala.
Coloring is a daily activity that can provide just as many benefits to men as it can to women. Men are just as susceptible to stress as women are, and men deserve the chance to relax and let their stress melt away with an anti stress coloring book,  just as much as women do.
The truth is, adult coloring books for men are gaining popularity, and the stigma of men using coloring books has declined in recent years. Everyone can benefit from being creative and lowering stress in their lives. Who wouldn't benefit from the meditation-like effects of coloring?
Free Adult Coloring Pages for Men
Art Therapy Coloring Books For Men are for those men who want something other than flowers and butterflies! They are the "manliest" coloring books! Order yours today and get 2 day shipping with Amazon so you can get your color on! Also, don't forget to sign up for our email list! We'll send you some free adult coloring pages, so you can print the coloring pages and get started right away!
Joining the mailing list is a great way  for men to test out whether they would enjoy coloring or not. Since some may be on the fence whether this is right for them or not, it is the perfect opportunity to download some coloring pages for free to test it out. What's the worse that can happen, you waste a couple pieces of printer paper?
Note that the free coloring pages include general adult coloring pages, anti-stress coloring pages, coloring pages for men, etc. It is a mixed bag of sorts in terms of coloring pages. The printable coloring pages are not specifically geared towards men, but you can pick the ones that are appealing to you.