Large Print Coloring Book for Senior Citizens
As you explore this coloring book for the elderly Designs Vol. 1 with your markers or colored pencils, you will get to experience the calming relaxation of the ocean waves without ever leaving the comfort of your house.
When we designed this coloring book for seniors, we aimed to make something that would be beautiful and inspiring, but also easy to see and easy to color. We took into account the challenges that people ages 55 and over often face, such as diminished eye sight.
We designed coloring pages that are just as beautiful as any of the designs in our adult coloring book, but which are somewhat simplified and drawn with bolder lines so that they are easy to see and color. Coloring is supposed to be relaxing, so what is the point of doing it if your coloring book makes you anxious and frustrated by being too hard to see?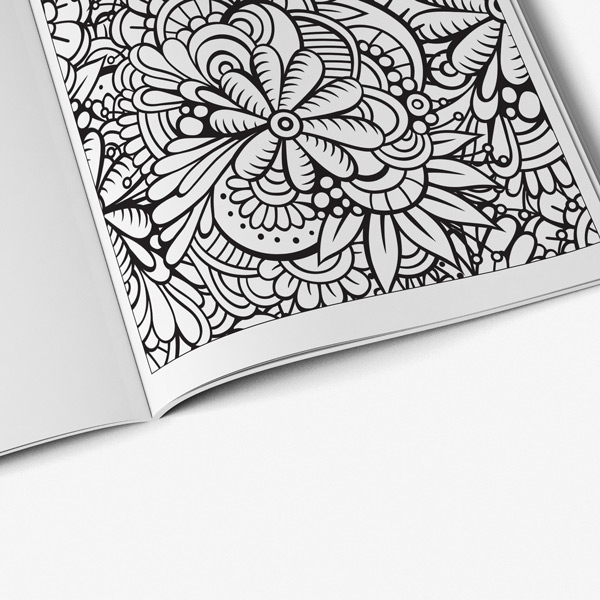 Coloring books for the elderly
A coloring book for senior citizens is a great activity for having fun and relaxing while making beautiful art. With a coloring book for older adults, it is also possible to give patients with dementia a relaxing activity that can help with anxiety, confusion, and aggression.
Coloring is very soothing and calming, which makes it the perfect activity. It also makes us happy because it connects us with our childhood. In fact, many seniors haven't colored since they were children, which makes coloring an extremely comforting activity.
Health benefits of coloring
Coloring is known to have several important health benefits, in addition to being fun and creative. Several studies have shown that coloring causes people's blood pressure to decrease and their stress levels to lower. There have even been studies showing that coloring helps people remember things better.
Coloring is great for learning, and also for elderly people who are worried that their memory might be starting to have problems. In fact, there are many neurological benefits of coloring that are currently being explored by researchers. Devoted colorists report that having a daily coloring practice has a lot of the same benefits as a daily meditation practice.
GET YOURS TODAY
Grab your Coloring Book for Seniors: Ocean Designs Vol. 1 today!
Coloring Book Details
Series: Coloring Book For Seniors
Size: 8.5″ x 11″ (21.59 x 27.94 cm)
Paper: Black & White on White paper
Number of Pages: 86 pages
Number of Designs: 35
Publisher: Art Therapy Coloring
ISBN-13: 978-1944427429
ISBN-10: 1944427422