A coloring book for adults featuring bird designs
If you loved our Birds Volume I, you'll find this Volume even more exciting with the highly detailed background designs, flowers galore and ornate borders surrounding an intriguing variety of birds.
Start your coloring journey here with a pair of nomadic cockatiels lost in a winding maze of twisting flowered and leafy vegetation.  Keep your senses alive and awaken the bird lover in you with a few varieties of the tantalizing peacock.  Don't overlook the childlike songbirds amidst the playful wildflower forest.  The fun and familiar rooster is very satisfying to design with bold, strong color contrasts to make the page come brilliantly alive.
Hours Of Coloring Fun!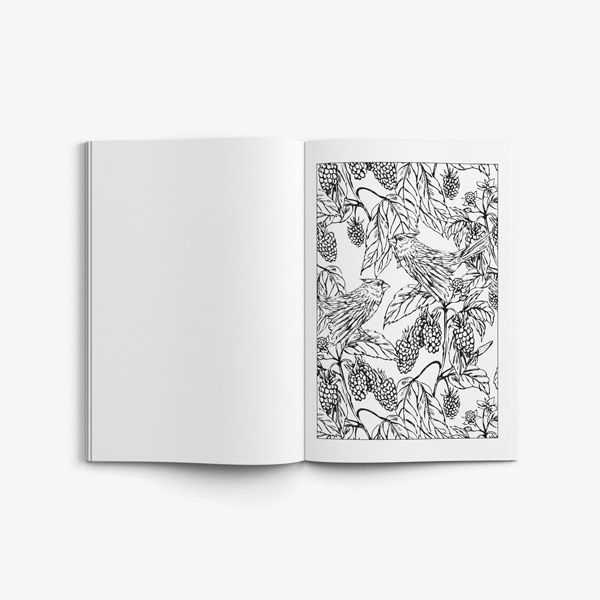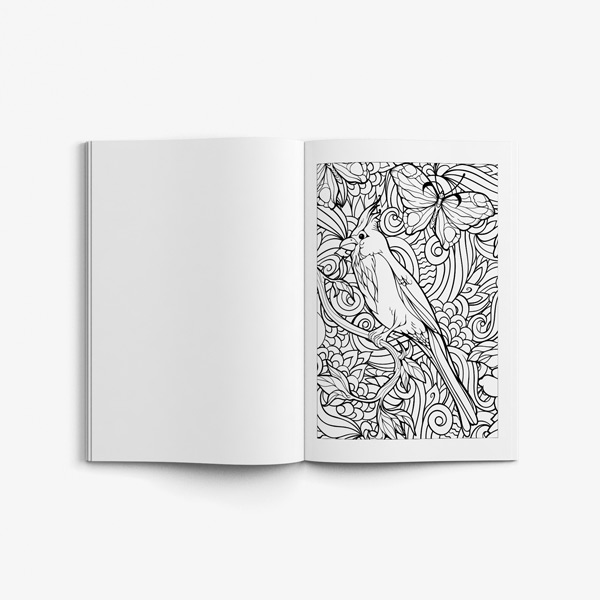 Choose to spend a few hours coloring the parrots for a test of your true creativity with any color on Earth.  There are more than 350 varieties of parrots in the world.  They come in all sizes and colors so go wild with your imagination. You can create the world's most unique parrot and enliven your day using your entire collection of vivid color on these crafty and charismatic feathered friends.
We've included busy hummingbirds, cardinals alongside sneaky butterflies, the fieldfare who is a member of the thrush family as well a wading heron.  You'll also enjoy the solitary and the repeating pattern of stealth owls in this widely varied collection.
Swans and geese are always a favorite with their unique, mesmerizing beauty and purposeful grace as they glide through the water with reverence to the peaceful day.  Coloring these sweet and loving doves will have a special impact on your day when you consider the various symbols that doves represent.   While coloring these sweet messengers of good-will, imagine the symbolism they carry such as love, grace, devotion, purity and hopefulness.  If you're looking to improve your day in countless ways, coloring these birds is a sure way to begin.
The smile you'll be wearing as your creations morph into colorful avian delights will be one of the many rewards you gain for the time you spend coloring them.  Enjoy the serenity of letting your mind drift to the freedom of life as a wild bird.
Color A Variety Of Bird Designs
If you like exploring and learning about different species of birds, you are going to love Bird Coloring Book for Adults Vol. 2. You get to enjoy many different kinds of birds, including:
Hawks
Peacocks
Owls
Parrots
Hummingbirds
Sparrows
Parakeets
Larks
Roosters
Quail
Doves
Flamingoes
Swans
Ducks
And much more!
There are realistic pictures that make you feel like you are coloring the pages of a very beautiful science text or an Audubon illustration. There are also stylized pictures that are reminiscent of the bird they are illustrating, but which are more artistic than accurate. Bird Coloring Book for Adults Vol. 2 has pictures for every mood, making it the perfect option for you or the bird lover in your life.
High Quality Coloring Books
We offer only the highest quality coloring books. There is nothing worse than sitting down to a relaxing coloring session, only to discover that your markers or pencils tear the pages up, or that the colors bleed through to the pictures on the back side. We accept these frustrations as part of life when we are kindergarteners, because we must work with what we have available, and we really don't have anything more important to be doing anyway. But as adults, when we carve out some precious time from our busy lives to color, the last thing we want to be dealing with is subpar paper.
All of our books are printed on high quality, heavy paper, with the back of each page blank. This means that even if your markers bleed through, they won't be spoiling the picture on the back of the page. We do recommend that you place a sheet of plain paper between your pages if you are using markers, to make sure that you don't get an ink transfer all the way through to the next picture.
With Bird Coloring Book for Adults Vol. 2, you get even more gorgeous pictures of birds, along with many different artistic styles to color and enjoy. There are realistic pictures, stylized pictures, pictures with borders, pictures with detailed backgrounds, and pictures with no backgrounds at all. No matter what style of art you are in the mood to color, you can find the perfect bird coloring picture in Bird Coloring Book for Adults Vol. 2.
Coloring Book Details
Series: Animal Coloring Book For Adults
Size: 8.5″ x 11″ (21.59 x 27.94 cm)
Paper: Black & White on White paper
Number of Pages: 86 pages
Number of Designs: 35
Publisher: Art Therapy Coloring
ISBN-13: 978-1944427504
ISBN-10: 1944427503